What Our Patients Like Most About Our Pharmacy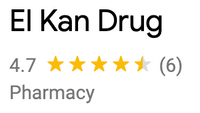 "By far the best pharmacy in Kansas. Locally owned and they care. You're not a number, I will always use El Kan. They are amazing people!"

"The owner knows so much about medicine's. It is the best pharmacy in Liberal Kansas."

"This team goes above & beyond to help! & you can shop for great gifts or home decor while you wait!"

"I had a daily injection prescribed to me recently. My insurance and the coupon didn't cover enough for it to be affordable. Elkan went above and beyond with contacting my Dr about changing it and finding a coupon to make it affordable! I would recommend El Kan to anybody! I'm in Satanta but totally willing to drive to liberal to get my meds from now on!!"

"I love this place talk about fast wow they are fast!"

"Recommend El Kan Drug!!! Very nice and fast service! Also a fun unique store to shop in too!!!"

"Wonderful place. Employees are knowledgeable, nice, and helpful. What pharmacy Is fast and the gift shop has very cute stuff."